Highlighters are one of my favorite products when it comes to makeup apart from lipsticks. They make me look like I'm glowing from within and give me that subtle glow with minimal efforts. Sometimes I do like to take the glow a little over the top, but who doesn't like to go all glammed up! However, you need to be careful with the intensity of the highlighter you apply. You do want to have a glowing face but applying too much of the product can make you look like a disco ball. Well, enough of ranting, let's get straight to the point! Here's everything you need to know about this highlighter.
Wet n Wild MegaGlo Highlighting Powder- Precious Petals
So, the highlighter I'm currently obsessing over is this Wet n Wild Megaglo Highlighting Powder in the shade Precious Petals. Oh, what a highlighter it is! It has a rose-gold-tone with fine pearly pigments that are so smooth it doesn't really require much effort to work with. Also, it doesn't contain glitter chunks that are difficult to blend and make your face shine with glitters. It is super easy to blend and feels so smooth! The formula is buildable so you can build up the intensity based on your choice. The highlighter comes in 4 different shades, but I chose to go with this particular one since I didn't own any in this color. I'm so glad I went for this shade because I've been using it every single time ever since I got it! These are the 4 shades of the Wet n Wild MegaGlo Highlighting Powder.
Precious Petals
Blossom Glow
Winter Falls in LA
Crown of my Canopy
Pros of the highlighter
Highly pigmented
Easily blendable
Contains extremely fine particles
Has no fallouts
Fragrance-free
Cruelty-free
Gluten free
Buildable formula
Gives radiant glow to the face
Diverse shade range
Suits all skin types and skin tones
Affordable
Travel-friendly
Beginner friendly
Cons of the highlighter
I couldn't think of any because it's just too good!
Packaging
The highlighter comes in a plastic case with a clear lid. Hey! Don't start to have second thoughts about the plastic packaging. It is quite sturdy and locks very well. And oh my god! The design the highlighter has is just so pretty that I didn't feel like touching or using for the initial few days. I'll put a picture here so you can have an idea about how beautiful it looks. The clear lid makes it very easy for you to see the highlighter so you won't have to go through the shade confusion in case you own different shades of the product.
This is how the packaging looks like.
This is the beautiful design of the highlighter. Isn't it just so pretty? I just can't stop praising it!
How and where to apply?
If you're an amateur or someone who doesn't know how and where to apply, don't worry. I'm here to help you out. This is how I apply it.
After finishing with my base makeup, contour, and blush, I take a clean fan brush to apply the highlighter. I'll put a link below to the brush I use so you can check it out too.
The fan brush I use is PAC Flat Fan Brush – 139.
Since it is a powder highlighter, it is advised to use a fan brush. Chances are that you'll not end up messing up.
I take a little powder, tap off the excess, and start to apply on the high points of my face.
By high points, I mean, the cheekbones, bridge, inner corner of the eyes, cupid's bow, chin, forehead, and brow bones.
I start by applying a little product and then build it up if I want a glam look.
Once I'm done with the application, I set the look with a setting spray and seal the look.
The setting spray I use is LA Girl Pro Setting HD Matte Finish Spray.
I've attached a pic below so you can have an idea about where to apply the highlighter. It is an easy guide that will make you understand better.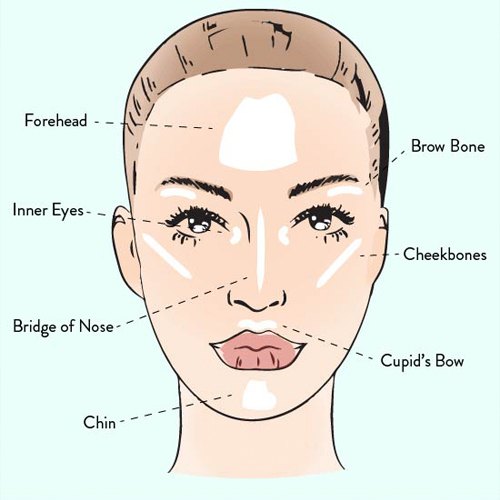 What are the quantity and price?
The Wet n Wild highlighter comes with a quantity of 5.4 gm and retails for ₹499, which I feel is totally worth every penny! The quality of the product is so good I can bet you'll fall in love with it too just like me!
How does it swatch?
This is how it looks on my hand.
My opinion
If you're looking for a drugstore highlighter you should definitely check this one out. It doesn't break me out or anything and stays put for good 4-5 hours which is great! I have oily skin but putting the highlighter doesn't make my face shiny or make me look like I've bathed in a pool of oil. In fact, Wet n Wild is one of the best drugstore brands that makes amazing makeup products without compromising on the quality. Also, the brand is cruelty-free and is Peta certified which makes me use their products even more. Also, many of its products are vegan as well. Coming to the highlighter, you'll definitely find at least one shade that'd suit your skin tone. I'm sure you won't regret buying it! Moreover, it's so affordable! I got mine on a discount which was even better, and I'm sure you'd find it on discounts too! Get your hands on it and let it amaze you with its glow!
Grab yours on a discount too by clicking HERE.
If you're from outside India, click HERE to grab yours.
Do let me know your experience if you've tried the highlighter or leave any suggestions below. It'd mean a lot!
Stay healthy and keep smiling! 😊
XOXO!